Rustic Pallet Wooden Furniture
There was time when people were least interested in the recycling of pallet wood. They believed its ugly its horrendous and not worth to work on. But as the time passed away, they realized that it is really a money saving technique and you can go all the miles in journey of recycling with the pallet wood. Pallets were easily available everywhere like on construction sites, even on the roads. But as people began getting inclined towards the recycling of pallet wood, it is becoming a little harder to arrange a pile of pallets now days.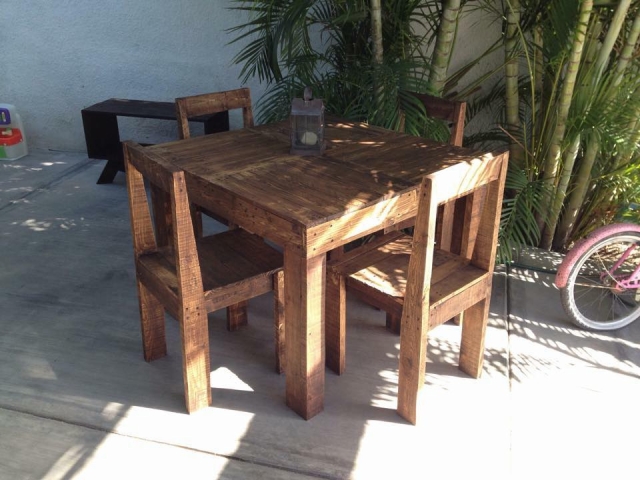 As all the pals know that we have buckled up to revolutionize the world of recycling the wooden pallet. We have made countless experiments. We have made numerous furniture projects that are being used practically in our daily lives. Here again we have an insane inspiration of rustic pallet wooden furniture. The rustic wooden furniture seems closest to the nature. We usually witness such classy furniture in vintage cafes and bars where people go for casual gossips and gatherings. Or this sort of rustic wooden furniture is also seen on beaches and beach restaurants. So just bring it home right now, recycle this rustic wooden furniture and create the atmosphere right at your place.

Do you see the tiny chairs, they are very well built and designed as well. Though the chairs are not that comfortable but they still look pretty classy. Some raw pallet planks are used in recycling the chairs while very robust wooden pieces are installed on the base of center table. This whole sitting arrangement is upcycled using the pallet wood. You can have a cup of coffee with your family, or you can crack some deals sitting on this rustic pallet wooden furniture with your partner.