Iron Pipes and Pallets Upcycled Bar Benches with Table
When was the last time you got under ground wiring of your water system? It usually happens once in years. Because it is a damn tough task and time consuming activity. We usually use iron pipes in this under ground wiring of water system. Though these iron pipes have been largely replaced by the plastic pipes having relatively longer life under concrete. But yet these iron pipes are still used in this regard. When I had my wiring renewed last time, the left over of those iron pipes is still lying in my back yard. I have not trashed them out because I am an artist. I know the worth of these trivial things. They can make our life beautiful if we know the basic art of recycling the trashed goods and things. So why do not we talk about recycling these left over iron pipes and our beloved pallets into some stylish bar benches with tables.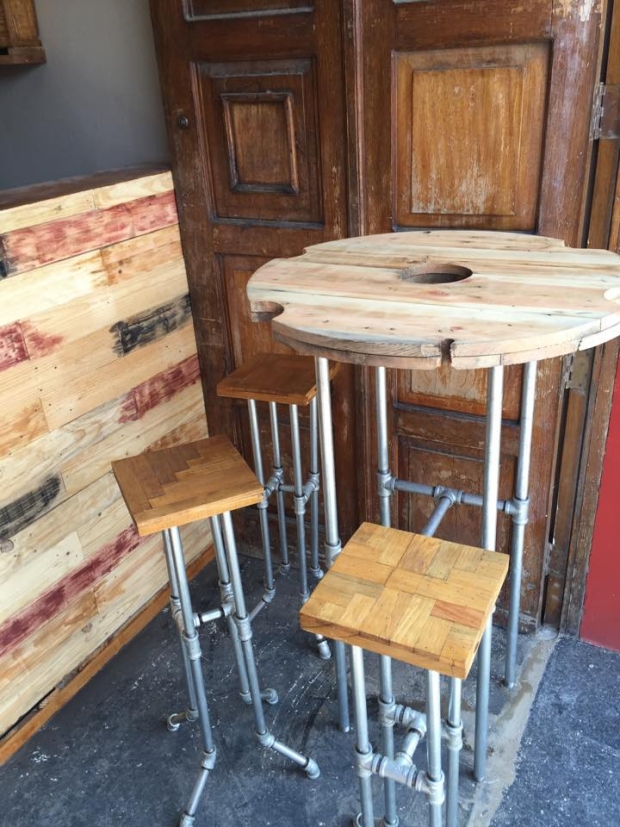 This project is just meant to be a demonstration and a basic inspiration for you towards this project. Though you can make any changes just according to your choice and priorities. Look at the basic structure of this bar table along with matching benches. The base or the stand of all bar set is upcycled with the trashed iron pipes. Even their lengths, bends and joints are used in making the lower stand. While the upper top which is made of wood is made up by recycling the wooden pallet. This is really a superb combination of some of the basic materials like iron pipes and wooden pallets. This is just like bringing a wine bar right at your home. This is all about creating the atmosphere. Not only stylish but these are durable as well.