Reclaimed Pallet Wood Desk
A desk is a conventional piece of furniture that is designed to cater our several needs. Sometimes it is used as mere wooden tables, and sometimes they are used to place our valuables in the drawers. Though the designs and shapes of these wooden desks vary a lot according to their need, nut whatever is their design, they are frequently used in almost every house hold. So we thought to recycle a reclaimed pallet wood desk. You just do not need to worry about the expenses as this pallet desk is going to be quite cost effective.
This recycling is a whole world of imagination and art. We give new life to the trashed and dumped stuff here by turning them to whole new articles. Recycling is a source of inspiration for many art lovers. They strongly believe that this cutting of trees is causing climate change on a very large scale. Not only this, but recycling give us many cost effective furniture items which we can use in our daily life. Instead of going for market based furniture items, you must give a try to the art of recycling. Let me assure you, it would give you immense pleasure when you would end up making some awesome furniture items.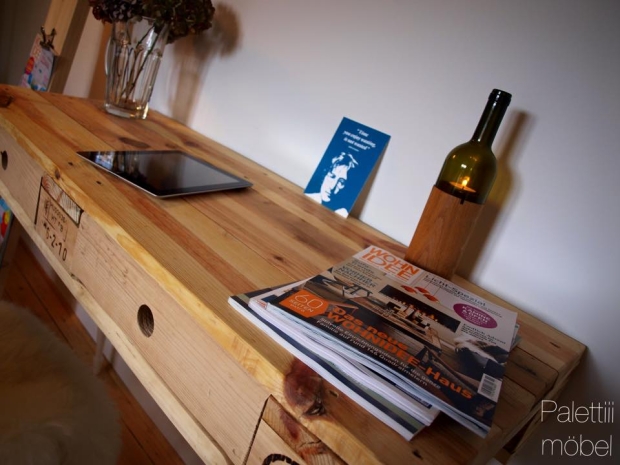 Here is a cute reclaimed pallet wood desk installed along the room wall. You can sit here to read some books or to do some writing work. This reclaimed pallet desk is recycled using one single pallet, while the legs are reclaimed from some discarded furniture item. It also has a couple of drawers having locker holes where you can fix some fine lockers to preserve your valuables. This wooden beauty is complimenting the room interior as well. This reclaimed pallet wood desk is a superb addition to your room interior.