Pallet Vegetables Display Stands
Whenever we visit some big shopping malls, we see some separate vegetable portions which are specified for vegetables only. We some huge wooden racks where each vegetable is placed separately. If you need such vegetable racks you do not need to go out there in the market to buy these ready made wooden racks nor you want to hire some professional to get this work done. Once again the pallet wood is here for your rescue. Yes you can recycle pallet vegetable display stands at your own. If you are running some kind of shopping mall or a grocery store, this is a perfect suggestion for you.
Whenever we start some new business, we have to make huge investments on starting the new set up. We spend a lot of money on the decoration and interior. If you are planning to make a grocery store then these pallet vegetable stands are a perfect requirement of your store. These display stands are going to help you organize all of your stuff you have to sell. If you buy these wooden vegetable display stands from the market, you are going to have a price shock. As every wooden item is pretty expensive out there in the market. And even if you hire some professional to make you these vegetable display stands, he is going to charge you a lot. So better to start recycling the wooden pallets into vegetable display stands.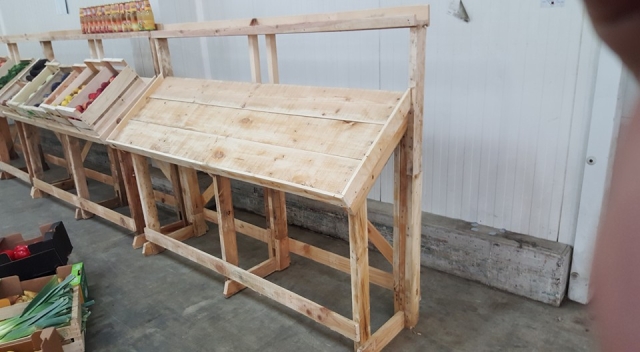 These are typically designed vegetable display stands. The basic stands are sloped inward so that the vegetable racks are easily accessible and can also be viewed even from the distance. Whole of structure is made with pallet wood. The same basic wood work know how, some basic tools and some effort is employed in making these perfect vegetable display stands.